Senior Travel Groups That Make Adventure Accessible
For retirees who have waited for their golden years to travel, senior travel groups offer a number of social and financial benefits. Whether you are looking for single senior travel or over 60 travel groups, you can find the perfect opportunity near you.
Senior Travel Groups With Purpose
For single or widowed seniors, senior travel clubs offer opportunities to meet others within their age range who hold similar interests. However, travel groups for seniors are much more than a way to meet people. They provide opportunities that cater to a wide range of interests from learning tours to adventure travel and volunteering opportunities.
Travel Clubs for Senior Singles
The following are a few options for senior singles vacations:
Women Traveling Together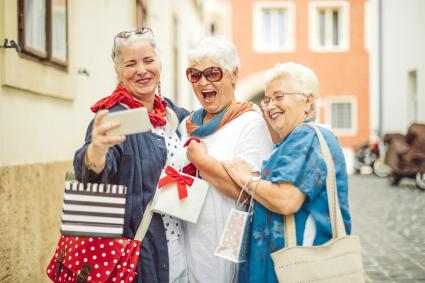 Women Traveling Together is a travel company designed to meet the needs of women traveling solo. They arrange room sharing and keep the travel groups small for a more personal, friendly feel. They offer a variety of destinations and have a travel expert along for every trip.
Kindred Tours
Kindred Tours has been exploring the world since 1984 and offers big adventures in small groups. Solo seniors can choose from domestic trips with a special focus on the American Southwest, some international travel and cruises as well.
Singles Travel International
Singles Travel International has 23 years of experience. Their solo travelers come together as a group and travel to one of the many destinations they have to choose from. There are domestic and international trips. Cruises, adventures, tours and even long weekends.
Budget Travel Clubs for Seniors
If you are working with a tight budget, these may be some options for you.
AARP
For those on a limited budget, AARP suggests taking advantage of free walking tours found in a number of cities in the United States as well as overseas. These tours are led by locals who can provide interesting details that tourists won't hear elsewhere.
Evergreen Club
The Evergreen Club is a unique Bed & Breakfast network that gives you access to nearly 2,000 friendly, economical homestays for people 50 years and older. They are located throughout the U.S. and Canada. Room rates are about $20 a day for a couple and $15 a day for singles.
Vacations by Rail
Vacations by Rail is North America's leading supplier of train vacations and the 'trusted authority on rail'. They have scenic rail trips in the U.S., Canada, and Europe. They also offer unique rail journeys in Africa, Australia and India as well as a cruise/rail combination trips. They have so many more destinations to choose from, specials you can check into, and AARP discounts as well.
Learning Tour Senior Travel Clubs
For those who believe you're never too old to learn or enjoy traveling to pursue an interest or hobby, learning tours provide unique travel experiences. A few examples include:
The Road Scholar Program
The Road Scholar Program, formerly known as Elderhostel, Inc., offers small group travel in the United States, Canada and internationally. Programs include everything from outdoor adventure-type tours to cruises, train treks, historical studies or visits to National Parks. Check their travel website for the full spectrum of choices.
Global Greeter Network
The Global Greeter Network are volunteers that enjoy and love their city so much that they are willing to give you a tour for free. They can show you just what you want to see, museums, parks, restaurants, architecture, etc. You can find a global greeter in one of their 200 destinations.
Sandemans New Europe
Sandemans New Europe offers free walking tours led by local expert guides in 20 of the world's best cities and they guarantee you an unforgettable experience. They guide you on walking tours, pub crawls etc., and work on a tips-only basis.
Senior Group Adventure Travel
Plenty of baby boomers ages 50 and over want to not only travel with a group of people within their age group but also want their travels to be adventurous. This can include activities that are water-related, such as kayaking, canoeing, fishing, and rafting, or it may include taking in the scenery with a hike, riding horseback, or some other physical activity. The important thing to consider when traveling with a senior group on an adventure such as this is that you'll have to be in moderately good physical shape. You can find a number of resources that provide adventurous group travel for seniors. Here are a few of them:
Elder Treks
Elder Treks is the world's first adventure travel company that was designed exclusively for people ages 50 and over. They have an extensive list of destinations to choose from and it would be well worth checking out their website.
ROW Adventures
ROW Adventures has been in business for over 36 years. They offer adventure trips such as canoeing, kayaking, rafting, hiking and walking trips at various destinations. They have destination trips throughout North American, Latin America, Mexico, Canada and Europe. ROW Adventures is dedicated to sustainable travel and actively supports river conservation.
Walking the World
Walking the World offers full immersion hiking adventures and travels to many different locations. This experience helps adventurous souls 50 years of age and older see some of the world's most vibrant cultures and hike some of the most magical destinations.
Senior Volunteer Vacations
Many seniors volunteer in their communities, but not everyone is aware of the opportunities to volunteer while on vacation. A number of projects and agencies have a history of long-term projects perfect for seniors to contribute their skills and time while on vacation:
American Hiking Society
You can give back and volunteer through the American Hiking Society to help maintain the hiking trails. Individuals of any age and experience level can become trail stewards.
Handsup Holidays
Handsup Holidays allows you to make a difference when you volunteer while on a luxury family trip. This trip not only allows you to see the amazing sights but also to interact with the local people and give back through volunteering. Their destinations are in North America, Latin America, Asia, Africa, Europe, and the Pacific.
Travel With a Challenge
Travel with a Challenge has many different volunteer vacation options available that would embrace the interests of adults of any age. Another bonus is the low-budget cost of these vacations once you reach your volunteer destination.
Finding the Right Senior Travel Group
A number of factors should be taken into consideration when choosing the right travel group for you. First, if you want to travel with seniors, the first criteria will be to consider groups comprised of people 50 years and older. Second, you'll want to determine what is important to you as you travel. This can include things like your budget for the trip as well as what you want to do on your vacation and where you want to go. As you plan, items to consider include:
Free time available vs. scheduled activities.
Difficulty level of, and pace of, activities.
High end, all-inclusive vs. budget tours.
Benefits of Traveling as a Group
Traveling as a group offers a number of benefits. Groups can save money on transportation and hotels and tours are a great way to meet other seniors. Another benefit often overlooked is the safety afforded when traveling as a group. For instance, tours require different levels of physical ability. Group tour guides will make the level of difficulty known to groups whereas this information is often overlooked for those who are traveling independently.
Plan Ahead for Senior Vacations
No matter what kind of group you decide to travel with, it is important to plan well before leaving. If you have special needs, contact the travel group coordinator to find out if the tour or trip can accommodate your needs. For information on accessibility while traveling, visit Society for Accessible Travel & Hospitality to see if the areas you plan to visit can accommodate your needs. If you've never traveled with a group, you may want to consider a senior travel club to help make the process easier. Once you get information on a group, read the literature, including the fine print, and be sure to check with the Better Business Bureau to be sure the group you've chosen is reputable.
Enjoy Your Vacation
Planning your trip well will ensure that the vacation is not only fun-filled and informative or adventurous but also relaxing and energizing at the same time. Trips that go off without a hitch leave you free to enjoy every minute of every activity.