Turning 80 Years Old: Memorable Birthday Quotes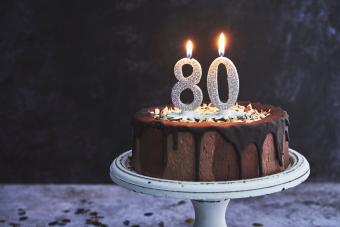 80 years old birthday quotes should be special to commemorate the person's life. Turning 80 is a momentous event deserving of a mix of serious, celebratory, and humorous quotes.
80 Years Old Birthday Quotes
You can share a serious sentiment with an original birthday quote. Depending on your relationship with the 80-year-old, you may want to make the quote personal, especially if the birthday gal or guy is one of your grandparents.
Happy 80th Birthday, Great-grandma, your dolphin tattoo makes you the coolest woman I've ever known!
Happy 80th birthday, Grandpa, When I was a kid and got sick, you always sat by my bed. I want you to know each time I woke up and saw you there, I was filled with such comfort and I knew I would be okay as long as you were sitting by my bed.
Happy 80th birthday, you were the best piano teacher I've ever had. Thank you for everything you taught me. You gave me a strong foundation that I went on to build into a music career. I'm forever grateful to you!
Funny 80 Birthday Quotes
You can always add a little humor to funny 80 birthday quotes as long as you know the birthday 80-year-old well enough to gauge their sense of humor. You can make your birthday quote about a memory you share or a well-known fact about the person.
Happy 80th Birthday! I'm writing my birthday wish to you since last year you couldn't hear well and thought I said, "Happen seven teas night worth pay," instead of happy 79th birthday.
Happy 80th Birthday! Congratulations, you're old enough to remember when vintage cars were the newest cool models.
Happy 80th Birthday from a fellow 80-year-old. If you're like me, you've forgotten more than you learned over the years.
Congratulations on your 80th birthday. You're no longer just a vintage, now you're a classic.
Happy Birthday! I'm a little disappointed, after 80 years, I thought you'd be much wiser.
Happy 80th Birthday, good friend. I'm so glad I have someone who is just as forgetful as I am. Here's hoping we remember each other tomorrow.
Happy 80th Birthday, brother. Here's hoping we never learn to act our age.
Reflecting on Turning 80 Quotes
Turning 80 quotes celebrate a milestone that causes many birthday celebrations to be about reflecting on age and the meaning of life. You can commemorate this important birthday with a thoughtful birthday quote.
Happy Birthday! There may be times when you doubt you've lived 80 years, but I've been by your side the whole time. Trust me, you really are 80 years old. Congrats!
Celebrating your 80th birthday means we can break out the good wine and enjoy a sugar overdose before the nurse comes back.
Celebrating your 80th birthday in a retirement home means you get to be one of the young ones, again.
What Do You Write in an 80-Year-Old Birthday Card?
If you're stumped about what to write in an 80-year-old's birthday card, you can take a beat. The person's age doesn't mean they are fragile and need to be handled with kid gloves. You can be respectful, but at the same time be yourself. Anyone who has lived 80 years appreciates individuality, so let your voice be guided by your heart in choosing your words. A few examples include:
Congrats on reaching your 80th birthday. You've been blessed to witness many things in life with lots of memories to share with us. May you have a blessed day!
I hope when I'm 80, I can be as amazing as you! I wish you the best of everything, but it appears that wish was fulfilled some time ago.
Thank you for being my friend for so many decades. I feel so blessed having shared my life with you. Happy 80th Birthday!
You are truly one-of-a-kind - the BEST kind! Happy 80th Birthday.
Birthday Quotes of Verses and Poems For 80-Year-Old Woman
You can write a birthday verse to convey your joy and loving wishes for that special 80-year-old woman in your life. You should keep the verses short and make each word count.
Happy 80th Birthday to a very special lady,
You give so much each day
To all who come your way,
May your heart be filled with love
to hold the memories, you make today.
Heartfelt wishes for a wonderful 80th birthday, Grandma,
Through your eyes I've learned to appreciate nature,
Have fun doing mundane things,
find my spiritual path
and to love unconditionally,
I love you so much!
Catchy Phrases for 80th Birthday
There are several catchy phrases and 80 years old birthday quotes you can use for poster, birthday cards, banners, t-shirts, and more. Choose the short quote that best conveys your birthday wishes.
80 is the magic number!
80 is the new 60!
80 is twice the fun of 40!
80 is the new infinity symbol.
80 outside/20 inside!
80 reasons to smile.
80 years of love.
80 years of fun.
29,200 days and counting…
80 Years Old Birthday Quotes You Can Use
You can choose from 80 years old birthday quotes for the perfect birthday wish, or if you're the birthday person, then use birthday quotes to thank everyone for their birthday wishes. There's a quote for everyone to enjoy on this special day.