It's finally happened. Those first few wisps of white hair have crept into your chestnut locks. Nope, you are not ready for that yet. Never fear! Explore the best professional hair color to cover gray. Delve into the world of hair dyes and highlights. And you can't hide anything before scoping out the best products for gray roots.
Best Hair Color Solutions for Covering Gray Hair
If your hair goes gray before you are ready for it, the first option is to let it be natural. However, many people are not ready to go gray because they feel it makes them look older than they are. Today's hair care products offer plenty of solutions for gray hair. While dying your hair may seem to be an obvious choice, deciding how to color the gray away is a difficult task. When searching for hair color with the best gray coverage, you have two options: permanent or semi-permanent.
Permanent Hair Color for Gray Coverage
Permanent color covers gray better than semi-permanent colors, but the downside is that new growth shows more with permanent color. These colors dye your hair one color. Most hair dyes use chemicals such as ammonia and hydrogen peroxide to help bond the color to your hair. If you decide to use a permanent hair color, it is best to choose lighter colors for a couple of reasons.
Darker shades tend to make hair look flat and unnatural.
Darker shades show off gray roots faster.
Best Permanent Home Hair Color to Dye Gray Hair
The best at-home permanent hair color choices are:
Clairol Nice & Easy was chosen as the best permanent hair color for lighter hair shades by Good Housekeeping for its exceptional gray coverage and wearability. Nice & Easy comes in more than 40 shades ranging from pale blonde to black. Nice & Easy gives multidimensional, natural looking color in every shade that closely resembles the shade dimensions found in natural, uncolored hair. You should reapply this product about every four to six weeks as the new growth appears. It is available at most grocery, department, and drugstores for less than $10.
L'Oreal Excellence Crème was chosen as one of the best by the Today Show due to its excellent coverage and rich tones of color. Excellence Creme comes in 44 shades of non-drip color ranging from light blonde to black that give even, natural coverage to all your hair including resistant gray hair. The conditioner includes collagen to help protect and condition the hair for up to eight weeks. You should have the color redone as new growth appears. It is available at most department and drugstores for less than $10.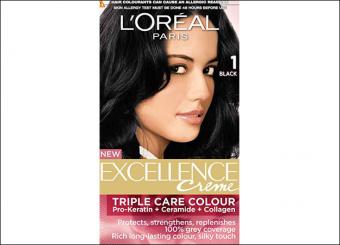 John Frieda Precision Foam Colour is a top pick on Oprah.com. This permanent hair color is a non-drip, easy to use foam that spreads evenly to hard-to-reach areas of your head and offers salon-quality color saturation results. It is available in 21 colors ranging from light blonde to black, and the website provides assistance with shade selection for those who are not sure which color will work for them. You can purchase the product at most drug and department stores as well as Ulta for less than $15.
Highlights Camouflage Gray Hair
Highlights are a form of permanent hair coloring. It is a common way to camouflage gray for women who are less than 50 percent gray is often with highlights. This approach scatters strands of dyed or bleached hair throughout your head, giving your hair a more natural look with less gray. The big advantage with highlights is that new growth is less apparent at the roots.
Blend Away Grays
Adding highlights may offer the best solution to blend away the gray, make new growth less noticeable, and go longer between colorings. However, if you are more than 50 percent gray, highlights will give more of a salt-and-pepper look rather than covering gray. This option should only be done in a salon by a professional colorist for the best results as at-home bleaching kits can be harsh enough to melt your hair.
Semi-Permanent Dyes Cover Grays but Wash Out
Semi-permanent and demi-permanent dyes are designed to wash out over several weeks. These hair colors won't lighten your hair. They can only be used to make your hair color darker because they are not formulated with ammonia or a peroxide strong enough to lighten your hair before forcing in the dark pigments.
Pick One Shade Lighter Than Natural Color
The best way to cover gray with a demi or semi-permanent color is to pick a color one shade lighter than your natural color so that the color does not develop too dark. This is a good choice for those unsure about coloring their hair because these hair colors gradually wash out over 28 washes. While these hair dyes are healthier for your hair because they do not contain ammonia, the downside to using these dyes is that the color does not have the same retention as that of permanent dyes due to not using ammonia or peroxide, which means that the gray returns faster.
Best Home Semi-Permanent Color to Cover Gray Hair
If you like the results but want your color to last longer, you can wash your hair less often or change to a permanent hair color for extended coverage. The best semi and demi-permanent dyes are:
Clairol Natural Instincts was selected by Consumer Reports, Good Housekeeping, and the Today Show as being the best all around semi-permanent at-home hair color. It is available in 36 shades ranging from light blonde to black. Natural Instincts does not use ammonia and does not leave you with a harsh root line with the new growth. It contains coconut oil and aloe to help protect and condition hair as the pigments blend away the gray for a natural looking result. It can be purchased in most department, grocery, and drugstores for less than $6.
Umberto Beverly Hills U Color has been noted on WebMD as one of the top demi-permanent colors and has received great reviews from customers as well. It is a demi-permanent gel hair color that offers rich, vibrant colors and is ready to use without mixing. U Color gives you even color results when covering gray hair from roots to ends. Most shades do not use ammonia. The blonde shades, however, contain a small amount of ammonia. All the color shades have an Equalizer to balance color absorption. This color is available in 20 colors ranging from blonde to black. It can be purchased through Amazon and at department stores for less than $15.
Wella Color Charm is a demi-permanent hair color that has received great customer reviews. Color Charm gives natural looking, long lasting results on up to 50 percent gray hair. It uses no ammonia and comes in 17 colors ranging from light ash blonde to black that process in 20 minutes or less. This product does not come already mixed. You must mix the tube of color with Color Charm Activating Lotion. It can be purchased at Sally Beauty Supply for less than $7 per tube.
Hints for Healthier Colored Gray Hair
As people age, hair color is not the only thing that changes. It is common for your hair and scalp to be dryer as the gray sets in, and coloring gray hair can exacerbate dryness. To keep your hair looking healthier:
Condition your hair every time you wash it.
For some people, a weekly deep condition treatment may be necessary.
To reduce dryness, blow dry your hair less often.
Protect the Longevity of Your Color
Once you have found a type of dye and the right shade for you, follow these recommendations to help the longevity of your color.
Use shampoos and conditioners that are made especially for color-treated hair.
Follow the instructions on all hair products you use.
Shampoo your hair less frequently.
Color Resistant Gray Hair
You have probably heard the term "color resistant" in relation to gray hair. The truth is that not all gray hair is color resistant, but coarse or prematurely gray hair does tend to resist absorbing color.
Dying Gray Hair May Take Longer
To remedy this problem when you color gray hair, it may be necessary to allow the dye to stay on your head longer. While the standard time for color processing is around 25 minutes, it may take as long as 45 minutes to cover gray. The best approach is to apply the color to gray hair first. It may take some experimentation on your part to figure out the length of time needed for your hair to absorb and retain the dye for best results.
Find the Best Way to Cover Gray
If you are uncomfortable experimenting yourself, head to a stylist who can make an educated formulation based on your hair's unique needs. There are homemade herbal hair dyes that will change the tone of your gray without harsh chemicals. Whichever route you choose, be sure to choose a shade that flatters your skin tone.