Update Your Look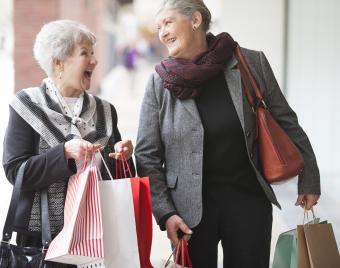 Just because you are maturing in age doesn't mean you have to park your fashion sense. Whether you are running around town shopping or heading to the office, there are lots of ways to pick up on trends that reflect your personality and maturity without reverting back a couple of decades in style. You will be able to find purchase information by clicking "more details" or "buy now" on the following images.
Wrap Yourself in Slimness
More Details
Wrap dresses are forgiving cuts for all body types because they drape your curves and disguise the common problem areas associated with aging: thicker midsections and larger hips. This attractive wrap dress features a modest V-neck, three-quarter length sleeves, and a waist tie, which make the dress a good choice for mature women as it enhances the figure and makes you look slimmer. It comes in 14 different colors and retails for under $30 and comes in sizes small to extra-large.
Elongate Your Legs
More Details
Wide-leg pant styles are a flattering choice for mature women who may need to conceal figure flaws like larger thighs, swollen kneecaps, or heavy calves. This attractive pant contains just enough stretch to smooth over lumps while offering you freedom of movement and comfort. It's available in 24 stylish colors and prints in sizes S to XXXL for around $30.
Opt for A-line Skirts
More Details
If you are searching for a universally flattering style for a mature woman, opt for the A-line. There's no better way to disguise less-than-perfect tummies and thighs while creating the illusion of a trim, thin waist. This flattering model features a gently gathered waistband for all-day comfort and an attractive maxi length. Pair with heels, flats or sandals depending on your mood and the occasion. Choose from nine versatile colors in sizes small to extra large for under $20.
Tailor Made for Business
More Details
You don't have to sacrifice style to dress age-appropriate for work. Well-cut, well-fitting clothing like this tailored pantsuit make you look slimmer and younger, and the flattering neckline, and tweed fabric add panache to a classic cut. The shawl collar is modest but alluring and the jacket creates a slenderizing line that makes you look taller. The sleeves can be worn turned up or left down for optional length. It retails for under $90 in sizes 12 to 18 petite.
Trendy Concealment
More Details
Boyfriend cardigans are trendy look that can be ultra-flattering for the senior woman as well. The open front, unstructured construction creates a vertical line that gives the illusion of slimness. The additional length of this boyfriend cardigan is the perfect way to hide larger hips. Choose from 24 color/print combinations that will go with almost anything in your wardrobe for under $15. Available sizes range from S/M, M/L to 12, 14-16, and 18-20.
Update Your Elastic Waist Pants
More Details
Trade those old fashioned, shapeless elastic waist pants and keep your silhouette looking slim with a style like this featuring a wide waistband and bootcut legs. The stretchy fabric gives just enough for the pants to glide over figure flaws without clinging or revealing those problems areas. Dress up or down to match almost any occasion by changing tops and accessories. Choose from sizes 2 to 8 for under $33 in five smart colors.
Rejuvenate Your Jean Jacket
More Details
Denim jackets are a trendy look so cash in on the trend by retiring older jean jackets that don't fit well or look dated. This modern jean jacket features a body hugging cut to flatter your curves and create a feminine, shapely silhouette. Available in sizes small and large for under $130, the vertical seaming details are slenderizing.
Top it with Tunics
More Details
Tunic tops are senior women's best friends; they look modern and trendy while covering up thick waists, protruding tummies, and heavy thighs and hips. Top pants with them to create a long, leggy look or pair them with skirts and other bottoms to mix and match. This versatile tunic features an extended length, a modest v-neck, and 3/4 sleeves. For under $25, you can add this trend-worthy top to your closet and flaunt your fashion sense. Choose from two colors in sizes small to x-large.
Smart Fashion Choices
More Details
Another senior fashion tip is to update your look inexpensively by adding trendy accessories to basic wardrobe items. This leopard print ensemble is spot on for the animal print trend and age appropriate for the mature women who wants to look in touch with current styles. At $15, it's an affordable splurge that features cuffed gloves, an easy-fitting, pull-on hat, and a versatile scarf that can worn many different ways.