Over the Hill Cupcakes
The cake. The party. The decorations. Making over the hill birthday cakes can take on many forms. Explore different ideas for cupcakes and cakes. Find your perfect 'over the hill' design and celebrate another beautiful year.
For decorating cupcakes, you can go with simple frosting and number candles. Remember brown frosting adds dark humor to your over the hill decor, and be sure to add a funny birthday cake message.
Themed Candles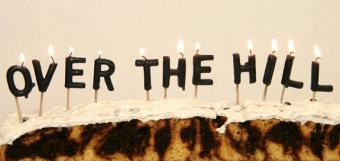 Many party stores sell themed over the hill accents, including "over the hill" birthday cake candles. Other, more whimsical options include spelling out "You're Old" or "Too Many to Count" with word or letter candles.
Golden Years
Celebrate being over the hill and in your golden years with elegant golden candles. Other cake accents, such as decorative icing, pearls, and toppers, can also be gold.
Antique Cake
A fun and unique over the hill birthday cake is to create an "antique" style cake featuring a vintage car, a retro console television, or another symbolic object. The cake can be even more meaningful if the design is sentimental to the guest of honor, such as replicating their first car or a vintage object from a favorite hobby.
Retro is Popular
A fun design for over the hill cakes is to evoke a memory from the guest of honor's youth, such as a popular song or significant historic event. Popular themes include "the day you were born" or celebrating the decade of their birth.
Classically Elegant
While it can be fun to use a tongue-in-cheek cake design, over the hill birthday cake ideas should never be embarrassing or make fun of the individual. If they are sensitive about their age, simple numbered candles can honor their age without turning it into a joke. Star toppers and other fun accents will highlight that they're the star of the party.
Fire Hazard Cake
For a fun and crazy cake sure to make everyone laugh, decorate the cake with as many candles as it can hold. Be sure to have a fire extinguisher on hand to complete the joke!
Sepia Cake
A cake with muted colors and sepia tones is a sophisticated and elegant choice to celebrate a senior citizen's birthday without emphasizing the over the hill aspect of the event.
You're How Old?
If the guest of honor is sensitive about their age, poke fun at it without embarrassing them by using a question mark candle instead of numbers. These candles can be found at any party store or bakery and are easy to add to any cake design.
Hill Cake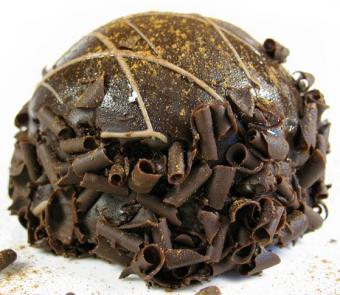 A cake that is shaped like a hill is a great way to celebrate the sweetness of being over the hill. Some cakes will actually be "landscaped" with hills and small figurines, while others are simply round shapes. A chocolate "bomb" cake or other sphere-like cakes are perfect and delicious choices.
Spring Chicken
If you're over the hill, you're no spring chicken anymore. A whimsical cake decorated with chickens is a fun and creative option. Similar design ideas include a "stubborn as a mule" cake or an "elephant never forgets" cake.