Great Humor Sites for Senior Citizens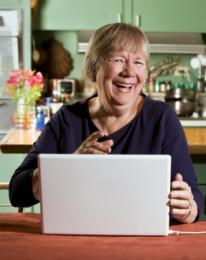 There is a saying that, laughter is the best medicine, and websites that provide humor for seniors to enjoy are just what the doctor ordered. Many seniors want humor that is clean, devoid of language they find offensive, without crassness and off-color nuances, and fortunately, there are many sites that offer just that. Explore humor sites for seniors and tickle your funny bone.
Sites Dedicated to Senior Humor
The following is a small sampling of the many wonderful senior websites that provide people of all ages with smiles, laughs and giggles to brighten their days.
Senior Citizen Over the Hill Humor: The Lighter Side of Getting Old
A great senior humor site, Senior Citizen Over the Hill Humor: The Lighter Side of Getting Old, is loaded with pages of hilarious stories, jokes and tidbits of funny senior words of wisdom. This website is definitely worth a visit. Other sections on this humorous site includes:
Funny videos
A gallery of funny photos
Cartoons
Advertising Spoofs
Over 50 senior citizen bumper stickers, which are priced very reasonably
A section called Naughty Seniors for those seniors that enjoy X-rated humor
Senior Ark
The humor section of Senior Ark is part of a volunteer website that is that is for seniors, by seniors. There are hundreds of links to senior citizen jokes, videos, pictures and plenty of other hilarious things that are sure to give you a chuckle. Readers are encouraged to send in contributions to the growing list of laughs.
Suddenly Senior
Suddenly Senior provides a lot of good laughs with great jokes and plenty of funny stories. The humor sections include:
Week's Best Jokes
Other Good Stuff
Bee's Knees Nostalgia
Swap Meet Dave
Written by a senior for seniors, Swap Meet Dave's Senior Citizen Merriment, Jokes and Fun is loaded with good, clean fun. The site offers cartoons, jokes and funny stories about seniors that many can relate to.
Humor Etc.
Humor Etc. includes a hilarious section called Geriatric and Baby Boomer Humor. If you remember a time before cell phones and the Internet, when announcers on local television stations said Goodnight at midnight as they signed off until the morning shows began, then this is the place for you. There are dozens of links, each one sure to give you a smile.
Read about Senior Personal Ads, Grandma's Boyfriend or School:1957 versus 2007. Take the AARP Quiz, or take a look at a list of Viagra Theme Songs. Get out your reading glasses, sit back and get ready for a groovy time.
Today's Seniors
Today's Seniors provides funny cartoon pictures, humorous stories and clean jokes. This website offers a section rated G and one rated PG.
Additional Websites for Your Laughing Pleasure
Mama Rocks is a site with a number of humorous song lyrics, poems and longer jokes that are aimed at older audiences.
Plus 50 Lifestyles is a site for adults 50 and older, their "laughter" portion of the website is filled with funny jokes, stories, photos and cartoons.
My Humor offers daily clean jokes and puts up a new joke on their site every day. Many of the jokes are aimed at seniors. You can look through an index of previous jokes from days passed.
Sharing Humorous Sites with Seniors
Sharing these or other humorous sites with a special senior in your life is a great way for the two of you to bond. After you have found some sites or jokes that you think will fit their taste, the two of you can share in some laughs together.