San Francisco, with its bustling streets and lively cultural attractions, good public transportation, and easily walkable streets, is a great city to spend the Golden Years. The city of San Francisco boasts many senior housing communities throughout its diverse neighborhoods. Housing for independent seniors ranges from luxury high-rise apartments and condos to affordable residences for those on a tight budget. San Francisco's stock of senior housing options is broad enough to fit most people's needs.
High-Rise Urban Living for Seniors in San Francisco
If you want to live right in the thick of things and be surrounded by constant action, an apartment right in the heart of the city is where you should be.
The Broadmoor
A towering retirement hotel located on Sutter Street, The Broadmoor boasts luxurious accommodations with a location that's close to everything. Broadmoor chefs bake bread each day for the residents, and a creative menu provides three, balanced meals each day. With a month-to-month rental agreement, residents will not pay as much as other luxury senior residences because there is no on-site medical care. However, the hotel is close to St. Francis Hospital and California Pacific Medical Center, and it has easy access to public transportation.
Room furnishings are included in the monthly rent, as are the meals, which can be consumed in the hotel's dining room or delivered through room service. Residents can relax on the hotel's terraced sculpture garden, socialize during cocktail parties, or get out on an adventure to nearby attractions, such as Napa Valley.
The Carlisle
Perched atop Cathedral Hill and offering stunning views of the San Francisco Bay, The Carlisle, at 12 stories high, blends upscale senior living with prime location and flexibility in housing options. Living at The Carlisle will allow for plenty of independence, with a choice of one- or two-bedroom apartments with or without a kitchen. The residence provides onsite meals for those who don't want to cook, plus, its onsite 24-hour concierge can arrange for transportation to offsite locations. The Carlisle offers many amenities including:
On-site salon
Fitness center
Library
Wine room
Activities like cocktail parties, lectures, discussion groups, art classes, concerts and excursions.
Residents have said they enjoy the community's promotion of independence and the many friends they make. The residence is owned by Sunrise Senior Living, which stresses independent living, freedom of choice, and family involvement.
While more expensive than some residences, The Carlisle accepts long-term care insurance and V.A. benefits, but not Medicare.
Senior Housing in San Francisco With a Low-Key Lifestyle
If historic architecture in a quieter area of San Francisco is what you prefer, then this may be the option for you.
Cypress at Golden Gate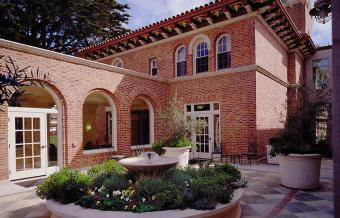 Just south of Golden Gate Park in the Sunset District, the Cypress at Golden Gate residence offers senior living with ease. In this less-busy area of San Francisco, independent seniors can enjoy coming and going, exploring the nearby park, socializing with other residents and participating in the many activities offered. The building is a historic landmark, formerly the Shriner's Hospital, and residents say while they are enjoying a high quality of life, they enjoy the attractive grounds and building. Residents can choose from a studio apartment to one- or two-bedroom living quarters and pet-friendly accommodations.
Residents have said they enjoy the active lifestyle Vintage Golden Gate provides, the well-maintained grounds and friendly staff. Families can feel secure that this residence offers a continuum of care for active seniors to those who need skilled nursing or memory care.
LGBTQ Senior Housing
If you are a member of the LGBTQ community, you may want to check into this housing option.
Openhouse
The Marcy Adelman and Jeanette Gurevitch Openhouse Community, also known as 95 Laguna, is a new, affordable 79-unit apartment community in San Francisco for LGBTQ seniors age 62 and older. One of Openhouse Community's goals is that every LGBTQ senior lives in housing that is safe, stable and affordable.
Budget-Friendly San Francisco Senior Housing
The City of San Francisco has an ongoing quest to increase its stock of affordable housing. The U.S. Housing and Urban Development programs have created a large number of subsidized affordable housing for low-income seniors. These developments require seniors to be placed on a waiting list or go through a lottery to secure an apartment. Here are a few options for subsidized senior housing in the city.
Presidio Gate Apartments
Built to house very low-income seniors, Presidio Gate Apartments in the Presidio neighborhood provides one-bedroom and studio apartments. An activities director and a service coordinator help residents connect with resources within the community, providing a safe and active place to call home. Residents receive access to the community library, a multipurpose dining room, as well as transportation for shopping, cultural events or other communal outings, arts and education programs and activities. For a small extra cost, residents can receive lunch five days a week.
Candidates for residency must have a yearly income that does not exceed 50 percent of the local median income, and their rent is 30 percent of a resident's adjusted gross income. There is an initial and an annual income review of each resident.
Crocker Amazon Senior Apartments
Crocker Amazon senior apartments has 36 affordable apartments for seniors with very low income. The residence, located in the outer Mission District, offers on-site and off-site senior support services including health screenings, visiting nurses, access to food bank and transportation. To live here, residents pay up to 30 percent of their adjusted gross income and must be selected by a lottery system to move in.
Valencia Gardens
The Valencia Gardens is a revitalization project, which razed dilapidated apartments in the Mission District in 2006 and built more than 200 new units, including 42 one-bedroom senior apartments in a separate building. The remainder of the apartments is intended for low-income families. With easy access to public transit, seniors can get around the city and feel independent in this community. The complex includes a computer/technology center, a community center, and landscaped gardens.
Choosing Senior Housing in San Francisco
Determining the right choice for senior residences in San Francisco will depend on the location, whether a residence accepts insurance or just private payment, and if the environment matches expectations. Visiting residences before making a decision will help provide a deeper understanding of the population, staff, amenities, layout, and location.
The idea of a true community is highly valued at many of the residences, and most will host a bevy of activities on and off site. Talk with the staff to determine your needs. Talk to the residents or read testimonials online to discover the lifestyle and culture of a particular residence.
Explore on Foot and Online
San Francisco is a geographically small and easily navigable city with good public transportation. Residences encourage taking tours, asking questions and meeting residents. Use the internet as a resource, but also get a physical feel for communities by making a visit. Take your time to make the right decision to find the perfect place to spend your Golden Years in the City by the Bay.