Saying goodbye to coworkers when you retire is never easy, but a retirement farewell letter to coworkers can help. Retirement goodbye letters should be short and sweet and provide information about your retirement date along with a final thanks.
Sample Retirement Farewell Letters
Like any letter, a retirement letter should have all the important elements and look professional. You'll probably want to have one letter you use as a resignation and one that you might use to hand out to coworkers as an announcement. If you need help with downloading or editing any of these sample letters, read LTK's Guide to Adobe Printables.
Letter to Supervisor
Your employer may have requirements regarding how far ahead you need to declare a retirement date, so follow those requirements accordingly. It's also important to follow through on any promises of helping with the transition you make in the letter.
Brief Letter to Supervisor
If you're looking for a brief letter that simply states the facts, this is a good option. Though brief, it still manages to convey appreciation to your supervisor and employer.
Sassy Letter to Supervisor
Perhaps you want to officially announce your retirement to your supervisor, but you two have a friendly relationship that demands some humor within the letter. This letter serves as a good example of wording that is sassy, yet not entirely inappropriate.
Letter to Colleagues
Alerting the people you work with about your impending retirement may not be required by your company, but it's a courtesy they will appreciate. It's a nice way to prepare them to do the work without you while also allowing you to let them know your appreciation for the time you worked together.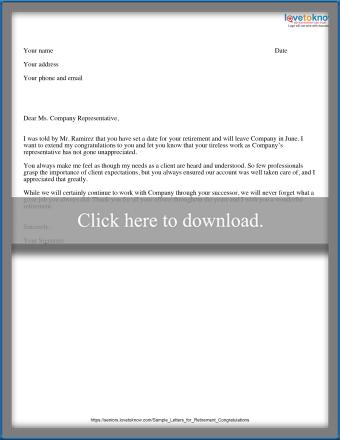 Retirement Goodbye Letter Etiquette
When writing your letter, keep it short and to the point. One page or less is all you need. Save the long message for your retirement speech.
A Professional Letter
In your letter, make sure to include all the important elements and keep it professional. Now is probably not the time to make jokes.
Keep a Copy
As you create your letter, make sure to type it, then print it out. Also, keep a copy for yourself, as it is a document that you might want to save. Include the basics for a professional letter:
Contact Information: Add your name, address, phone number, e-mail, and date at the top, following by the contact information for your supervisor and company, including all the same elements.
Salutation: Start the letter by addressing your supervisor or coworkers in a professional manner (i.e., Dear Mr. Richards)
Retirement date: Let your supervisor know the exact date you plan to retire.
Departure: Describe the details of your departure in a sentence or two, stating the facts.
Give thanks: Take a moment and consider saying something nice about the company or give thanks for your experience as an employee. Share a memory or anything that strikes you as meaningful.
Be helpful: Let your supervisor know you are happy to help with the transition.
Closure: Sign your name at the bottom and use an appropriate closure (i.e., "Sincerely, Ruth).
Retirement Correspondence Alternatives
Of course, if the culture of your company isn't conducive to business letters announcing your retirement as that may be viewed as too "stuffy" or "corporate," perhaps releasing a memo or email featuring a retirement poem and then adding a line at the conclusion about how the poem will make more sense on your retirement date. Follow that with the actual date to let everyone know when it will happen.
Funny Poster Announcement
Printing a funny retirement poem and displaying it near your desk accompanied by a photo of you giving a "thumbs up" and the date of your retirement can be a fun, informal way of announcing your final day at work for the company.
Be Cordial
Saying goodbye doesn't mean you're never going to be seen again, so make sure to keep your letter cordial. This is not a time to rehash old wounds or tell a difficult coworker what you really think about him or her. Your employer may also throw you a retirement party or so you want to keep on good terms.
Don't Burn Bridges
You'll still be getting out in your community, and retirement is a very important time to keep forging connections with others. Use your letter as an opportunity to completely let go of the past and thank your employer and coworkers for all they have done for you.
Saying Goodbye in a Retirement Letter
You want to give your employer adequate notice of your official retirement. This should be done anywhere from one to three months ahead of time, or possibly even more, depending on your job. The likelihood is you will already have discussed retirement with your employer and that the letter is just a formality. So, hand off your letter and get ready to celebrate.