Where to Find Awesome Puzzles for Senior Citizens
Playing games is a great way to keep an aging brain sharp. Whether you (or the senior in your life) enjoys crossword puzzles, Sudoku, or something else, a variety of options are available in unique formats that have been modified to suit senior citizen needs.
Crossword Puzzles Activities for Seniors
For many senior citizens, working on crossword puzzles is an enjoyable pastime. Some seniors are able to solve the crossword puzzles in daily newspapers. However, there are also a large number of people who find those puzzles more frustrating and confusing as the years go by. These seniors still love the thought of doing crossword puzzles, but need ones that are easier to solve with larger print.
Large Print and Easier Crossword Puzzles for Seniors
There are many excellent books full of easy crossword puzzles made for adults.
Brain Teaser Puzzles for Seniors
Books that contain a mixture of brain teasers and word puzzles are also popular. For a good start, download and print the attached brain teaser puzzles.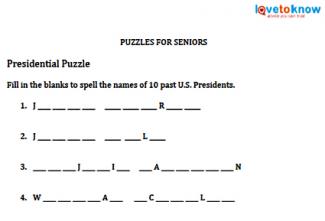 When you're done with those, try these resources:
Jigsaw Puzzles for Seniors
If you love jigsaw puzzles but find small pieces difficult to handle, try a puzzle made for seniors with over-sized pieces. These puzzles are made for ease of handling with images that are not childish but made for adults. These puzzles are also excellent for people with reduced vision.
Sudoku for Seniors
Sudoku is a number puzzle popular with many seniors. To play Sudoku, you use the numerals 1 to 9. Place them in the grid in such a way that no number is repeated in a square (marked off by the darker grid lines), in a row, or in a column. Use the printable Sudoku at right to get started. You can print it out in a larger size if that would be helpful. Just use the settings on your printer to do so.
Need more Sudokus and some online options? Try these:
Puzzles for Seniors
With the vast array of puzzles for senior citizens available, finding a type that you or your loved one will enjoy solving should not be a difficult task. When you start working on the puzzle you choose, then the challenge begins.