10 Places That Don't Tax Retirement Income
No Retirement Tax States
Retirees are living on a fixed income. Therefore, to save your hard earned pension or other retirement income, you might want to consider moving to a state that doesn't tax retirement income. However, the rules aren't as clear cut as they seem.
There are nine states that do not collect tax on any type of income, including retirement income. These include Alaska, South Dakota, Nevada, Florida, Texas, New Hampshire, Tennessee, Wyoming and Washington. But even these states have things to be aware of before making a move. To make up for the lost revenue from income tax, some areas have higher property or sales tax.
Alaska
If you love cold weather and snow, Alaska might be the perfect place for retirement. The state is two times the size of Texas and has more than 33,000 miles of picturesque coastline. With beautiful majestic mountains, sparkling lakes and magnificent views, Alaska is a scenic wonderland. In the Anchorage area, summer temperatures reach the mid-70s Fahrenheit. The winter temperatures reach to 20-30 degrees below zero degrees Fahrenheit.
Florida
For those who prefer warmer weather, Florida may be the retirement spot for you. Nicknamed the Sunshine State, Florida is known for its beautiful beaches, warm climate and tropical feel. Whether you love a bustling city atmosphere or a more laid back quiet rural community, Florida's diverse area is certain to have the retired lifestyle you want. However, depending on the area, summer temperatures often reach into the 90s and above.
Nevada
The first thing that comes to the minds of many people when they think of Nevada is the lively city of Las Vegas. But there is a lot more to this beautiful western state. With spectacular mountains views, crystal blue lakes and a sunny and dry climate, Nevada may be the perfect retirement spot. How dry is it? The average annual rainfall is only seven inches, making it the dryest state in the U.S.
Wyoming
One of the most thinly populated states, Wyoming, which is home to the Grand Teton and Yellowstone National Park, is full of natural beauty that has been described as breathtaking. Among its many sources of scenic interest are the Rocky and Teton Mountains, the Great Plains, the Black Hills and approximately 10 million acres of forested land. The climate and temperatures vary from mountains to plains.
Texas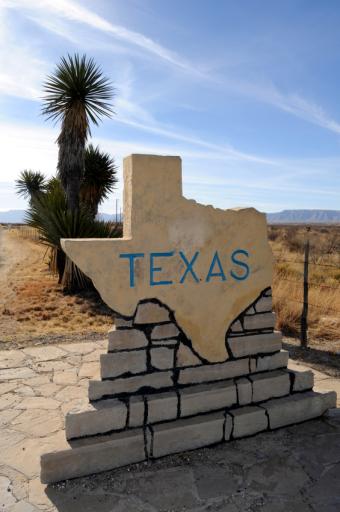 Measuring 860 miles from north to south and 773 miles from west to east, Texas has regions of natural scenic beauty. From rolling grasslands, great plains and hill country, to miles of coastline, pine forests and river valleys, the scenic beauty of Texas is ever changing. Just as the scenic wonders vary, so does the climate and the average temperatures.
South Dakota
The natural beauty of towering pine forests, majestic rivers and granite mountains make South Dakota one of nature's wonderlands. There are also some of the most magnificent manmade creations, such as the Mount Rushmore National Memorial and the Minuteman Missile National Historic Site. South Dakota has very hot summers and very cold winters. The average summer temperatures range in the mid-70s, with winter temperatures in the low teens and single digits.
Washington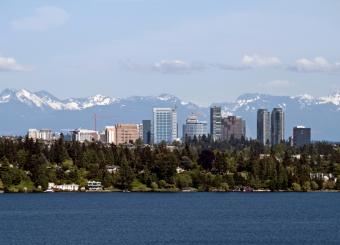 Bordered by Canada, Oregon, Idaho and the Pacific Ocean, Washington's climate and average temperatures vary greatly from the west to the east. Many people consider this Pacific Northwest area to be one of the most beautiful places in the world. From the rugged coastline to the mountains of the Cascades and Rockies, natural wonders are everywhere.
Tennessee
If you are looking for a scenic landscape combined with southern hospitality, Tennessee may be the retirement spot for you. With a mild-to-moderate climate, the average winter temperatures range in the low-40s, and summer temperatures average in the 80s. Home to the Great Smoky Mountains, this beautiful state has four distinct seasons.
New Hampshire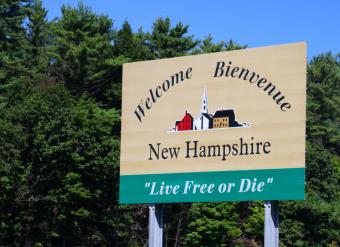 Part of the New England region, New Hampshire's beauty is magnificent. The average summer temperatures in Concord range in the high-60s to low-70s, while winter temperatures average in the 20s. With a rugged coastline, mighty mountains and beautiful rivers and lakes, New Hampshire encompasses all of nature's bounty.
Ten States: No Pension Tax
There are ten states that do not tax certain retirement pensions. However, within some states, cities or counties do levy a tax.
These states are Alabama, Hawaii, Illinois, Kansas, Massachusetts, Michigan, Mississippi, Pennsylvania, Louisiana and New York--which is a state that also doesn't tax government pensions of teachers, postal workers, and firefighters.
Before rushing to retire to places that don't tax retirement income , investigate all the other types of taxes that are levied in a location. To make the most of your retirement income, find the best place to retire for your individual situation.