Flattering Hairstyles for Senior Men
Thinning hair, bald spots, and graying are all things senior men need to take into account when getting a haircut. Finding the right haircuts for seniors can make you feel like a million bucks. Learn the tips and tricks for finding the perfect haircut for you.
Traditional Hairstyles for Senior Men
Traditionally, most older men wear their hair short and lightly layered. The length of the hair can vary widely, from very short to slightly longer. One of the most important elements of a good haircut includes the neckline. Do you want a blocked or tapered hairline?
Blocked Hairline
A blocked hairline is squared. This is a good cut for those with thin necks. However, if you have a thicker neck, this can add even more width to your overall look from the back. With hair still damp, place a dab of your preferred hair product on your fingers and run them through your hair, fashioning your hair into the style you want. If you want additional hold, blow dry and add a spritz of hair spray.
Tapered Hairline
A tapered cut has a more rounded look that outlines the shape of your neck. This is a good choice if your neck is wide, thick, or you are heavyset. Also, if you like to wait a little longer between trims, the tapered cut tends to hold its shape better than a blocked cut. Some men like to use a straightener to help achieve a smoother look with this type of hair.
High and Tight
A favorite of military veterans, the high and tight haircut is a clean, easy-to-manage option. Close shaven on the sides with just a little hair on top, it's truly a wash-and-go haircut that only needs a hair product if desired.
Haircuts for Seniors That Help Cover Thinning Hair
Most male pattern baldness is on the top, back, or front of the head. A good stylist will help you decide the best cut to cover any baldness if that is your desire. For example, if you only have a small amount of thinning in the back, you can grow the top part of the hair just a little longer and it will effectively cover it. This is not to be confused with the comb over, something most men try to avoid these days. Frontal baldness requires a completely different cut to help camouflage thinning hair.
When You Can't Cover Baldness
On the other hand, if the area is very large, hiding it may not be an option. It might be easier to go extremely short with a buzz cut and just let the bald spot show. While you may feel a little self-conscious at first, most other people will hardly even notice.
Avoid the Comb Over
For thinning hair at the front, it is best not to grow one side longer and create the dreaded comb over. The comb over rarely hides the bald spot. Also, growing thinning hair longer tends to make it look even thinner. It might be better to just get a short cut all over and not try to hide male balding on the front of the scalp.
Haircuts for Unruly Hair
Thick Hair
Thick hair is easier to manage when it is kept shorter, but if you don't like the look or feel of very short hair, keep the sides trimmed and the top a little longer. To achieve the effortless look in this photo, tousle the hair gently with product while still wet and either blow dry or allow to air dry.
Thin Hair
A shaved or bald head can be quite attractive on a senior man, especially if he has a nicely shaped head. It's one of the easiest haircuts to maintain, especially if you can shave at home yourself. No hair doesn't equal no shampoo though as you'll still need to wash away dead skin and excess oil. Thin hair isn't an issue when you shave your head.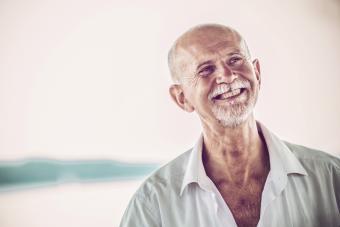 Curly Hair
It's a good idea to comb curly hair gently and from the bottom up. Otherwise, your hair is bound to get frizzy. Use products specific to short curls and frequently get trims to keep it neat. While you can still maintain a little length and still look well put-together when curly hair gets too long on a senior man it can quickly start to look disheveled.
Wild and Funky Hair for Senior Men
If you have a full head of thick hair, then you may want to try something a little wild and funky, almost a Billy Idol haircut, only shorter. Spiked hair can be fun as long as it is kept short. A layered look works best here. A little hair gel can help you achieve a spiked look, but when dealing with business clients or attending more serious events, you can also lose the gel and comb your hair back for a more cultured look.
The Long Look
Long hair can be quite attractive on a senior man when kept neat. If you want a ponytail, take care to use quality hair bands to avoid hair breakage and use styling products appropriate for your hair type. Avoid slicking back hair if you are thinning on top as this will only make the thinning more obvious.
A Flattering Look
The most important tip for senior men looking for a hairstyle is to not be afraid to switch things up. You don't have to stick with the same haircut style you've had for decades. Don't find a style that tries to hide your aging but instead look for a haircut that accentuates your features.
Deciding Which Cut Is Right for You
Deciding which type of haircut is right for you can be one of the biggest challenges senior men face. A hairstyle that worked 30 years ago may no longer look as good as it once did or may be perfectly fine. This is where expert barbers and hairdressers come into play. By consulting with a professional about which style will work best with your hair type and issues, you'll have a better chance of a final look that you can be happy with.