Choosing Hairstyles for Older Women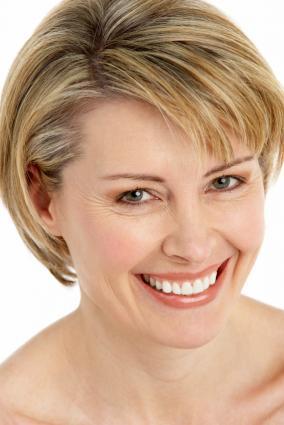 Today, there are numerous hairstyles that will compliment any older woman. Just because you are getting older, it doesn't mean you have to choose a new hairstyle, but if you do want to change your look there are many different options that can work for you as long as your new hairstyle fits your current lifestyle.
Long Hairstyles for Older Women
Long hair can be really beautiful. It can also be a pain. Here are some things to consider regarding longer hairstyles.
Pros of Long Hairstyles
Long hair can make you feel youthful.
If your hair is very healthy and shiny, long hair shows it off.
There are many ways to wear long hair, including braids, ponytails, upsweeps and more.
There are many more accessories available for long hair than for short hair. Consider beautiful hair clips, barrettes, and even chopsticks.
Face it, long hair is fun to toss around and is often considered sexy.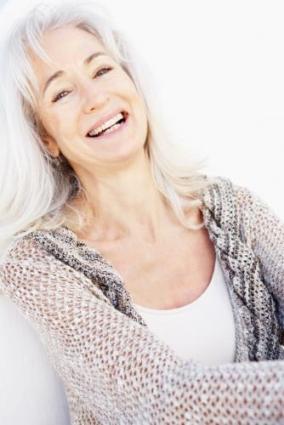 Cons of Long Hairstyles
Long hair can be a lot of work. There's washing and drying time, and it's easier to get split ends because you tend to brush long hair more than short hair.
Your hair needs to be healthy - long hair looks ragged if you have dry, split or otherwise problematic hair.
If you like to color your hair, it will take longer to maintain that color, and it also costs more money since there is more work involved.
Shorter women with extra long hair can look disproportionate. Try to match your hair length appropriately to your style and stature.
You'll likely end up using more shampoo, although daily washing for long hair is unnecessary. Extra conditioner is almost always a must, though.
If you have naturally curly hair, long hair can become tangled and hard to manage.
Short Hairstyle for Older Women
Short hair is not for everyone. It can be dramatic, and a huge change if you're used to long hair or even a bob. Short hair can also be dramatic in a great way, showing off your best facial features.
Pros of Short Hairstyles
Short hair can be fuss-free. Once a woman gets her routine down, she can go from the bed to picture-perfect in minutes with a dab of molding paste.
Short hair works great for women with delicate features.
Most women with short hair tend to have very healthy hair, mainly because it's cut regularly, and can even hold coloring with less damage.
Short hair creates a really carefree, active lifestyle feeling. This is partly due to the "get-up- and-go" aspect and partly due to the fact that short hair won't get in your way. Exercising, dancing, traveling, and other activities are easy with short hair.
You can usually wear a hat without worrying so much about wrecking your hairdo.
Cons of Short Hairstyles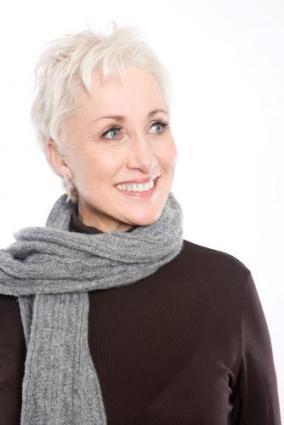 Short hairstyles for seniors can look too masculine if you get the wrong cut. Make sure you select a cut and length that will flatter your features.
There is sometimes less variety in styling. If you have very short hair, you're not going to have many daily styling options. Usually there are a couple of options for daily wear and that's it.
If you have a thick neck or larger chin area, short hair can look unflattering. It's better to go with a slightly longer cut.
Short hair leaves nothing to hide behind. You are always front and center with short hair. Some women feel that they need to work a little harder with their make-up and accessories because of this.
How to Choose the Right Hairstyle for You
It can be hard to choose one hairstyle. There are so many options - which can be a pro and a con. To narrow it down you might want to try the following ideas.
Browse hairstyle magazines: Truthfully, you don't even need actual hairstyle magazines. There are plenty of stylish older women in magazines like Real Simple, Prevention, Grand, and More.
Mimic your friends: It's likely you have pals with great hair. Ask them how they like their cut or what stylist they use. Is it easy to maintain? Who created their look? You might want to snap a picture of a friend and take it with you to your next salon visit.
Look to the stars: Think about your favorite actresses in television and film. Which hairstyles for older women do you enjoy? See if you can find a picture of your favorite actress on the Internet; hopefully you can find a picture of her having a great hair day!
Ask your hairdresser: You don't have to agree with what your hairdresser suggests, but she or he likely has a good idea of what will look great for your face shape and your overall style.
Ask a male friend: If you have a spouse or partner, you may want to ask his opinion. If he finds short hair alluring, maybe consider a shorter cut that will make him say, "WOW!" It can be fun to make your guy's eyes pop.
Keeping Your Hairstyle Fresh
After you get a new hairstyle, you will want to make sure you speak with your stylist about keeping your hair looking great. Ask your stylist for tips on how to style your hair and on tips for how to keep your hair healthy. As hair ages, it tends to be more prone to dryness and breakage so speak with your stylist about these issues as well to ensure your hair stays beautiful.