As you age, your hair changes. You might be going from a blonde bombshell to a silver fox. However, it is more than just the color. Not only does your face mature, but the texture of your hair can become flat and thin. Learn how to choose the best hairstyle to fit not only your maturing body but your lifestyle.
Getting the Right Hairstyle
Choosing the right hairstyle at any age is a nightmare. There are just so many things to consider. But as you age, that top bun just might not work for you anymore. Explore some tips and tricks for choosing a modern hairstyle that fits not only your lifestyle but your personality as well from stylist A.O. Belachaikovsky at the all-inclusive Detroit Barber Company, Corktown location. Through her years of experience, A.O. can help you take your look from drab to fab.
It's All About Texture
According to A.O., the first thing that a mature woman needs to consider is if the "density or texture of their hair changed as they have matured. Some women find that their hair becomes much finer, maybe even thinning in places. Other women feel that their hair becomes more course and unmanageable as the color changes to silver. Either way, a haircut that may have been easy to maintain in their 30s or 40s might no longer suit their hair texture. Be willing to mix it up and try something new if it means you're working with the changes in your hair. Working WITH your natural texture usually makes more sense than trying to force it to be curlier or thicker looking, or straighter or sleeker than it is naturally. That might mean finding a stylist who helps you learn to love your hair at any age, rather than constantly fighting it."
Thick Hair
Mature women that have thick or coarse hair might want to consider a cut that removes excess weight. A.O. states that "women often complain that the hair feels too 'poofy' on the sides." She recommends styles that remove "excess weight or bulk from problem areas. An undercut bob or a very textured pixie cut will last several weeks longer between trims than a bob or pixie that hasn't been cut to remove excess weight."
Thinning Hair
"For women with very fine or thinning straight hair," A.O. notes "a very stylish short-cropped cut with a little extra texture in the fringe and the sideburns can be so glamorous - like Judi Dench. With just a little bit of product those wispy fine hairs can be coaxed into an easy, intentional style."
Afro-Textured Hair
Those with afro-textured hair also have to consider the texture of their hair when getting a cut. A.O. states that she loves "seeing mature woman of color wearing their natural hair texture in a stylish fade with a bit more length up top. She notes that you can ask your stylist "for a curved drop fade for a feminine flair, and for even more pizazz, add a sweet line or two shaved in. A fade is so young and sharp and put-together looking, and so easy to care for."
Think About Your Lifestyle
While it is important to think about the texture of your hair, your lifestyle is equally important. According to A.O., you need to "consider how much work are you interested in investing in your hairstyle every day? Are there any mobility issues that would make blow drying or using a hot iron more difficult? If so, consider a smart short cut that doesn't require a lot of fuss to keep it styled perfectly." Additionally, "women are so much more active throughout their whole lives now." When considering the right haircut, it's important to find one that is going to fit into your lifestyle. For example, A.O. said that "if a client is going to the gym or getting regular exercise to stay fit, she's going to have a harder time with a fussy hairstyle that is going to have to be washed and set to look it's best."
Consider Your Face Shape
The face shape is important when choosing a style, according to A.O. She notes that "a style with a fringe that frames your face can make your eyes really stand out!" She believes that "any face is flattered by a hairstyle that looks intentional." She states to be weary of the "middle of the road approach: not too long, not too short, nothing too fancy." Once a person tries "a look that is bolder, they just light up with confidence! Try something fashion forward and see how it feels. You don't have to opt for a totally wild new fad but incorporating a small trendy element can change a cut completely. For example, a regular bob might be upgraded to an asymmetrical bob, or a tiny hint of a fashion color like purple in your bangs."
Long or Short: The Ultimate Decision
There are both long and short cuts that can look amazing on mature women. However, A.O. notes "there are some women that feel that keeping their hair longer feels more familiar, or more feminine, or it might be easiest to put it in a ponytail or bun every day. In many cases though, women at a certain age choose to crop their hair a bit shorter. It's often easier to wash and style than long hair."
To Color or Not to Color
Before you take the plunge into the world of color, A.O. says "right now women of all ages are going crazy for silver and gray tones." She thinks "some women might find that they actually like their natural gray if they use a 'purple shampoo' that neutralizes some of those unwanted yellow tones. Covering up 100% of your gray is going to require a commitment to a color appointment every six weeks minimum, and the grow out is definitely noticeable."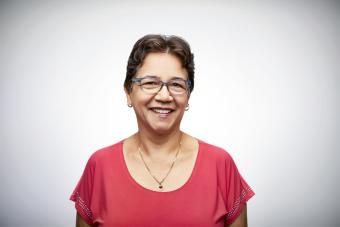 Try a Demi-Permanent
"If that doesn't sound appealing, or isn't in the budget, consider asking for a demi-permanent color," says A.O. "It works more like a stain and while you don't get complete coverage of the gray hair, it does tint them and the color fades away over time so there isn't a harsh line as it grows out." Her "favorite demi permanent product for mature women is the Redkin Shades EQ line. If you are looking for a lower maintenance option for your hair color, ask your stylist to try a product like Shades EQ."
Getting Highlights
"For women who have lighter colored hair, asking for some golden or beige blonde highlights can really warm up the skin tone for a youthful glow," recommends A.O. "Even if a client always preferred a platinum or ash blonde in her youth, warmer blondes can be so much more flattering to a more mature woman's skin tone, so don't be afraid to give it a try!"
The Cost
No matter what style you choose, A.O. says "many people are living on a fixed income as senior citizens." She has "always chosen to work at shops that charge the same price for men's and women's cuts. Senior women with short hair cuts may do well to find a talented stylist that can keep her style shaped up at an appealing price point."
Tips for Mature Styles
A.O. notes that while she is "biased towards the shorter styles, like pixie cuts and faded cuts," because "they can be cut to look so modern and can be sculpted close to the neck or the neckline can be left loose and "fringy". If a client wants longer hair, an inverted bob is very chic and versatile, particularly if a woman feels a little self-conscious and is wanting to keep longer hair at her neck or chin area."
Choosing the Right Style For You
Knowing how to choose a hairstyle that fits your lifestyle and hair texture can make your life a whole lot easier. You should also really consider how much you can afford to spend for maintenance on your new do. Now that you are armed with the right questions, find a stylist that fits you!