Gallery of Gift Ideas for Grandparents
Gift Ideas for Grandparents
Whether you're looking for gift ideas for grandparents for a holiday, Grandparent's Day, or to mark a special occasion, it can sometimes be difficult to find the perfect gift. Especially for grandparents who seem to have everything they need.
The following popular gift ideas may provide just the inspiration you need to complete your quest for the ideal gift and most of them are very affordable.
Homemade Gifts
Grandparents come from an era where living within your means was as natural as breathing. They often made homemade gifts to show their love to others, and now they will enjoy receiving the same. Your options are only as limited as your creativity. Here are a few idea to get you started:
Homemade card with coupons for things like hugs, back rubs or some chore around their house.
Soup in a Jar. Fill a Mason jar with ingredients for your favorite soup. Grandparents just add water, simmer and enjoy.
Gift Basket - filled with homemade cookies.
Scrapbook
Scrapbooks fall within the homemade category, but they take much more time to create. They make the perfect gift for collecting memories in a fun, creative way. It's a gift that keeps on giving as it is shared with family and friends.
Grandma Jewelry
Buy Now"
Jewelry designed specifically for grandmothers always makes a nice choice. Along with grandmother birthstone rings and personalized charm bracelets, another option is to give grandma a birthstone pendant made specifically for grandma with birthstones highlighting each grandchild.
Don't Forget Grandpa
Buy Now"
While grandpas may not wear a birthstone ring, it's still nice to find the perfect gift to remind them how special they are to the family. This can be as simple as a personalized grandpa coffee mug, or as unique as a grandpa-specific picture frame with a photo of the grandkids.
If grandpa enjoys technology, give him one of the new digital picture frames. It gives you another excuse to touch base with him regularly to update and load new pictures, too.
House Plant
A house plant makes a good gift for both grandparents and is the perfect gift to remind them of your special relationship as they water and care for it. However, if you know your grandparents tend to have bad luck keeping plants alive, this is not the choice for you.
For Long Distance Grandparents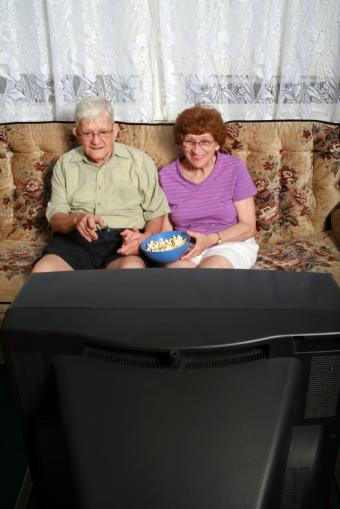 If your grandparents live long distance from you, make a video of everyday life to share. This gift for grandparents will be cherished over and over again. However, before you create your masterpiece, be sure they will be able to play it. For example if they only have a VHS player, sending them a DVD won't work. If that's the case, update your gift to a DVD player and your personalized family DVD.
Another gift for long distance grandparents is a prepaid phone card so they can call and talk without worries
Make Your Gifts Matter
Gift ideas for grandparents should take into consideration their interests and preferences. If they like to stay home, they may not want to go on a cruise, but if they've always wanted to travel, it could be the perfect gift. For larger gifts, the whole family can chip in to keep things affordable while still giving grandparents a gift they will cherish.
Grandparents are a treasure. Cherish them while they are here. Gifts for Grandparents are just one small way to show your love. Don't miss the opportunity!