If you're looking for a fun way to spend some quiet time, these easy crafts for seniors are perfect. Crafting provides seniors (or anyone) with a fun, inexpensive way to get creative and work on dexterity. These projects cover a wide range of motor abilities and independence levels, but they all have one thing in common: plenty of creative fun.
Inexpensive Crafts for Seniors
If you're on a fixed income, you may not want to devote a lot of your budget to craft supplies. All of these crafts are fun and inexpensive, and they use materials you already have on hand:
Crafts for Seniors Who Want to Make Gifts
Nothing is more meaningful than a handmade gift, and you don't have to be a crafting expert to make something special for someone you love. These projects don't require lots of previous crafting knowledge, and you'll have a lovely gift when you're done. Dexterity requirements vary.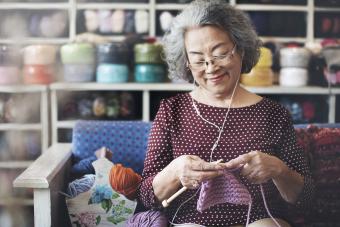 Useful Crafts for Seniors to Make
Put your crafting time to good use by creating something practical and useful. These crafts don't require lots of previous knowledge or even a steady hand, and they result in something you can actually use:
Fun Crafts for Seniors to Do With Grandkids
Spending time with grandkids is always rewarding, but it can be even more fun if you get creative together. These projects are perfect to share with kids of all ages:
Holiday Crafts for Seniors Who Like to Celebrate
The holidays are a great time to experiment with new crafts. You can make festive decorations, special seasonal cards, and more with these great projects that are perfect for seniors:
Wonderful Crafts for Those With Mobility Challenges
Just because some seniors have mobility challenges doesn't mean they can't enjoy crafting. These crafts for the elderly are perfect for people who struggle with making precise movements:
Arts and Crafts for Elderly in Nursing Homes
Crafting is a great way to bring joy and excitement to the lives of those in nursing homes. These crafts for elderly nursing home residents prove that creativity is fun, no matter where you are in life:
Clay Crafts for Seniors
Working with clay is a relaxing activity that engages seniors on a tactile, visual, and creative level. Those with limited dexterity can generally mold the clay without difficulty, and these simple ideas for clay crafts are fun to try:
Beads for jewelry - Making beads out of Fimo clay is a great option for beginners.
Homemade clay - It's easy to make your own clay out of ingredients you already have on hand.
Clay patterns - Advanced clay workers can learn to make a flat pendant using textures and other techniques for a project with a bracelet and another with a pendant necklace.
Photos and Photography Crafts for Senior Adults
For seniors with an interest in photography, taking pictures can be fun. However, knowing how to incorporate photos into crafts can be a great way to show off your creativity. Seniors living in nursing homes or staying in the hospital may enjoy this type of crafting because it involves meaningful photos of important people and places in their lives. The finished product can also provide comfort, without taking up too much space.
DIY photo collage - Collages are a great way to express your creative interests and make unique artwork.
Photo magnets - Photo magnets are a small trinket that you can keep on your fridge or gift to loved ones.
Photo puzzle - Turn a favorite picture into a puzzle with a free printable overlay.
Fabric and Needle Crafts for Seniors
Fabric crafts are great ways to engage yourself physically and mentally, not to mention at the end of your project you have a handmade piece to wear or use for decoration. For seniors who love creating things from fabric but struggle with seeing tiny work, needles with large split eyes, glue guns, and Velcro help to make many projects easier. These activities can also provide comfort to seniors who are lacking daily structure, are experiencing boredom and are losing dexterity in their hands:
More Easy Crafts for Seniors
The following projects are especially great for seniors who are new to crafting. These projects are perfect for the senior who enjoys a lot of creative freedom and needs an activity to keep her mind and body engaged.
Painted mirror - Give your décor an update with this easy project.
Decoupaged items - This fun project can help you dress up picture frames, tables, chairs, and mirrors. It is also a very easy craft to learn how to do if you are a beginner.
Hummingbird feeder - Re-purpose your old wine bottles and watch beautiful birds come hang out in your garden.
DIY mosaic tray - This is a creative way to use broken dishes to create something new.
Printable coloring pages - Print free coloring pages to try some relaxing adult coloring.
Stay Sharp With Easy Crafts for Seniors
Crafts for seniors are an excellent way to keep the mind stimulated while fostering a sense of accomplishment and pride. Crafting is a great way to pass the time, enjoy a fun activity with a friend, and reduce overall stress.